Ghost in the shell : Stand alone complex

Rendez-vous sur Project Shirow (Directement ici pour la section sur Ghost in the shell : Stand alone complex) pour une page à jour et peut être participer à ce nouveau site communautaire sur Masamune Shirow !
Please, come at Project Shirow (Here for the Ghost in the shell : Stand alone complex section) where you will find the up to date pages, and a community website about Masamune Shirow !
---
Opening / Ending (Generiques)
Merci a Ellroy (dont le site n'a pas supporte la charge...)
OP
/
ED

Trailer
Un trailer echappe de Animax, qui n'est pourtant pas le trailer officiel, de une 1"30
Disponible sur
http://hk.dmz-plus.com/movie/koukaku.mpg
et
http://www.sa.sakura.ne.jp/~straydog/oshii/gits-sac/gits-sac-trailer.mpeg
(source :
http://animenation.net/forums/
)
UPDATE 01/09
: Devant la chute repetee de tous les serveurs, j'ai decide d'uploader le trailer non-officiel ici :
http://ghost.in.the.shell.free.fr/share/Ghost_in_the_shell_Stand_alone_complex-koukaku.zip
Jeu Playstation 2
http://www.the-magicbox.com/gaming.htm
"august 30, 2002
Sony is working on a new PlayStation 2 title based on Ghost in the Shell: Stand Alone Complex, a new TV Anime series that is scheduled to broadcast in Japan in October."
Concours de wallpaper
Production IG a cree un
coucours de fond d'ecran
sur le theme de Ghost in the shell : Stand alone complex afin d'augmenter le traffic de leur site.
C'est Yoshiki Sakurai ("Ghostwriter") qui l'a
annonce
, de maniere non officielle pour l'instant, avec l'approbation des fans, sur le forum du site.
UPDATE 31/08/2002 : Annonce et page officielle : http://productionig.com/GhostTV_wallpaper.html
C'est l'occasion de pouvoir voir les images en haute resolution ici (Zip de 1,7 Mo).
---
Davantages d'infos sur les modalites de diffusion de GITS:SAC sur http://www.production-ig.co.jp/anime/gits3/timetable.html
On y apprends que la serie sera diffusee sur le cannal 149, perfect choice, une chaine PPV (Paying per view).
Le tarif sera de 800 Yen pour 2 episodes.
http://www.skyperfectv.co.jp/
Dessin de Hajime SHIMOMURA (character designer)
Effets 3D de Makoto ENDO (directeur 3D)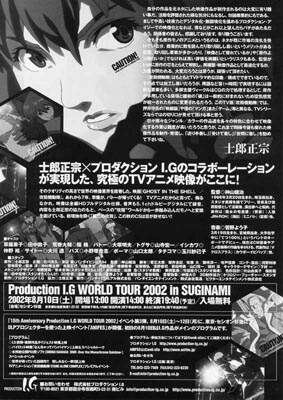 (source : http://sa.sakura.ne.jp/~straydog/oshii/gits-sac/)
ENFIN !
Production IG revele enfin preparer la serie TV de Ghost in the shell, renomme a l'occasion Ghost in the shell : stand alone complex
Avec Shirow en partie au scenario :-)
"I feel very fortunate that my work is appreciated enough that I have the opportunity to make a visual production out of it. I am especially grateful for the help of Production I.G, known for its high quality work, advanced skills in digital technology, and worldwide appeal. I must say that I could not have possibly hoped for a better opportunity. I am really grateful to all the participants involved in this project and I'd like to thank you all very much."
-Shirow Masamune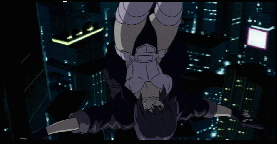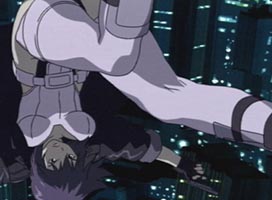 La serie TV comportera 26 episodes, dont la diffusion debutera en octobre (en meme temps que la sortie US de MMI ? :) sur la chaine payante Animax, en attendant la diffusion sur d'autres chaines...
La serie sera vendue a une vingtaine de pays, alors, la France, pourquoi pas ? :-)
Le budget, 800 millions de yens (6,8 million d'euros) a ete fourni par Bandai Visual, Bandai Entertainment et Dentsu. Avec autant d'argent, et les techniques qui ont evoluees depuis 1995, la qualite de l'animation sera a la hauteur du film.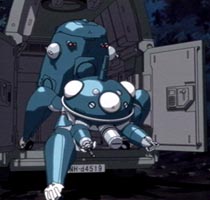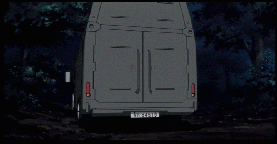 Le staff :
Histoire originale : SHIROW Masamune
Planning :

ISHIKAWA Mitsuhisa (Production I.G.)
WATANABE Shigeru (Bandai Visual)

Realisateur / Series Composition : KAMIYAMA Kenji (ou KAMIYA Kenji) (Mini Pato, Blood Screenplay, Direction de l'animation sur Jin Roh, et a travaille sur Duck Tales, Akira, Winnie the Pooh, Kiki's Delivery Service, Little Nemo, The Hakkenden, Silent Mebius, Adventure of Mikeneko Holms, Hashire Merosu, Genocyber, Police Notes, Tatoo Master, El Hazard, Gran Stream Denki. [Source]
Screenplay :

SUGA Shôtarô (Wild Arms)
SAKURAI Yoshiki (Premier travail)
SATÔ Dai (Cowboy Bebop pour les episodes Jamming with Edward, Bohemian Rhapsody et Brain Scratch)
FUJISAKI Jun'ichi (Auteur des nouvelles 2 et 3 de Blood)
TERADO Nobutoshi (Kaidohmaru, Sakura Wars: The Movie)

Storyboard / coordination de production :

KONO Toshiyuki (Daiguard / Directeur de l'animation, Pretty Sammy / Dir. Anim., Zoid Zero / Storyboard, Coordinateur de production)
WAKABAYASHI Atsushi (Desert Pirate Cpt. Quappa / Character-designer, Flame of Recca / CD, Dir. Anim.)
MATSUMOTO Jun (Blood / Mecha-Design)
NAKAMURA Ryûtarô (Lain / Realisateur, Final Fantasy U / Coordinateur de production, Sakura Wars TV / Realisateur, Legend of Crystania / Realisateur)
YOSHIWARA Masayuki (Ninku TV / Storyboard, Directeur de l'animation)
YAMAMOTO Hideyo (Ai yori Aoshi / Storyboard, Noir / Coordinateur de production)
GOTÔ Takayuki (Hunter x Hunter OVA+TV / Character-designer, Blue Seed / Character-designer, Please save my Earth / Character-designer, Video Girl Ai / Character-designer)
SATÔ Masahiro (GITS / Animateur Cle, Gundam X / Animateur Cle, Popolocrois Monogatari / Animateur Cle)
ASANO Kyôji (Kaidohmaru / Character-designer, Directeur de l'animation)
MAEDA Akiyoshi (Love Hina Again / Character-designer, Tales of Eternia / Character-designer, Nadesico - The Prince of Darkness / Directeur de l'animation)
YAMAGUCHI Ken'ichi (Romeo's Blue Skies / Animateur Cle, Record of Lodoss War TV / Animateur Cle)
UEMURA Atsushi (Tico of the Seven Seas / Animateur Cle)

Character Design : SHIMOMURA Hajime (Love Hina / Animateur Cle)
Mechanic Design :

TERAOKA Kenji (Dual, Arc the Lad, Generator Gawl, Slayers + Next + Try / Creature Design)
TSUNEKI Yukinobu (Crest of the Star, AWOL)

Production Design Model : KATÔ Hiroshi (Abenobashi / Art Director, Boogiepop Phantom / Art Dir, Now and Then... / Art Dir, Evangelion / Art Dir.)
Art Director : TAKEDA Yusuke (Yukikaze, Cyborg 009 (2001), Blood, Slayers TV1)
Color Setup : KATAYAMA Yumiko (Jin-Roh)
Director of Photography : TANAKA Hiroshi (Kaidohmaru, Patlabor 3, Mini Pato)
3D Director : ENDÔ Makoto (Kaidohmaru)
Editing : UEMATSU Jun'ichi (Sakura Wars - The Movie, Mini Pato, YuYu Hakusho)
Music : KANNO Yôko (Cowboy Bebop, Macross Plus, etc...) [Home page]
Sound Director : WAKABAYASHI Kazuhiro (GITS, Mini Pato, Avalon)
Sound Effects : JINBO Daisuke (Spectral Force, Pokémon: Mewto's Counterattack)
Animation : Production I.G.
Work Cooperation : SHIROW Masamune
Production :

Bandai Visual
Bandai Entertainment USA
Dentsu
Victor Entertainment

Producteur : Yuichiro Matsuka



Seiyû (doublage) :

KUSANAGI Motoko : TANAKA Atsuko (photo) (Meme role que dans GITS, mother Kanbayashi dans BlueSeed, Karen dans Lupin III, Nena Argen dans Aika, Soi dans Fushigi Yugi, cf www.tcp.com/~doi/ et voir aussi sur Anime-Seiyuu info page (Elle a aussi double des series live telles que Friends (Phoebe), Beverly Hills 90210 (Antonia Elisabeth)...))
ARAMAKI Daisuke : SAKA Osamu (GITS: ÔKI Tamio)
Bateau : OTSUKA Akio (Meme role que dans GITS)
Togusa : YAMADERA Kôichi (Meme role que dans GITS)
Ishikawa : NAKANO Hiroshi (Meme role que dans GITS)
Saito : ÔKAWA Toru
Pazu : ONOZUKA Takashi
Boma : YAMAGUCHI Tarô
Tachikoma : TAMAGAWA Sakiko
Extrats, de peu de rapports... :
Interview de Kenji Kamiyama :
http://www.akadot.com/article/article-kamiyama1.html
Interview de Oshii par Kenji !
http://www2.production-ig.co.jp/eng2/oshii1.htm